All right, we're in Florida!
There's so much to do, so much to see!
You can go to the everglades and look at pythons and alligators…
You can visit Miami and get a taste of the famous nightlife…
Or you could just hit the beach and have a grand time.
There are so many options to try out when you come to Florida, it can be a bit tough to find out what you're looking for.
What if you're the party animal/club lover?
What if you're the foodie who just wants to get a good plate and a few good alcoholic drinks?
What if you're a lover of animals and the ocean?
Then you could go find a way to end up on a boat.
Or hang out with fishing rods and some good bait.
Or, you could be even more of a thrill-seeker.
You could hop in the water and experience the ocean by snorkeling!
Seeing the beautiful, awe-inspiring marine life up close is a marvelous experience!
Nothing like swimming and coming across a turtle…
A school of vibrantly-colored fish…
Or even coming nose to nose with a shark.
Yikes.
If that possibility doesn't scare you and you're really interested in figuring out where to go snorkeling in Florida, I've got the top 10 best snorkeling spots in Fort Lauderdale listed for you below.
Grab your snorkel and dive in!
Snorkeling Spot #1: Vista Park Reef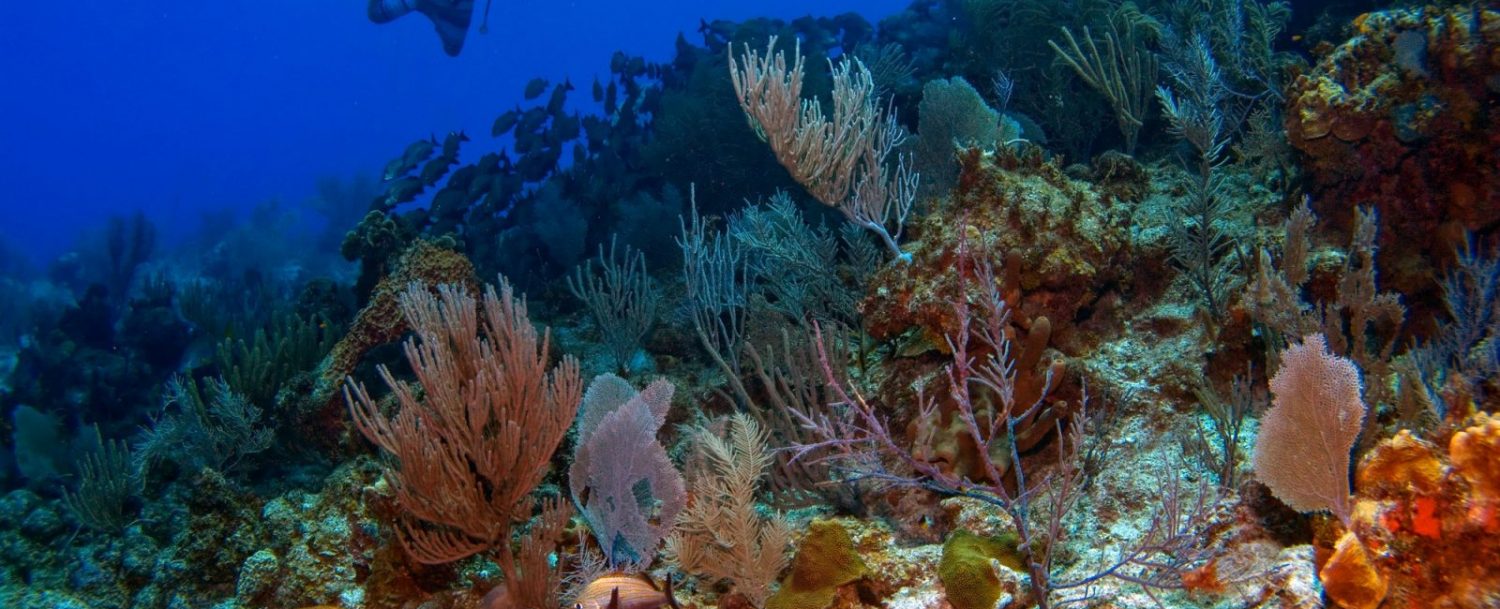 Whenever you're traveling, there's always going to be two different experiences.
You will have the tourist experience on one hand, the experience that gets advertised with big, bright, colorful signs and nice videos of people smiling and having a great time.
Then you have the second experience, the one that not everybody will get to experience.
This is the experience that lies in secret, and usually, only the locals know about it.
And between these two categories of experience, Vista Reef Park lies right in category number two.
A treat for all that discover it, Vista Park Reef is sure to be a memorable excursion for you while you visit Fort Lauderdale.
Once you make landfall on the beach, all you have to do is hit the water and start swimming.
Yup, there's no need for boats.
Just keep swimming, because around 1,000 feet from the shore lies the experience you've been looking for.
Warm water, water depths ranging from 8 feet deep to 20 feet deep, and of course the sea life and sights make this snorkeling spot a great area to check out!
Just bring a dive flag and your gear, but leave your wallet!
It's free!
Snorkeling Spot #2: Pompano Beach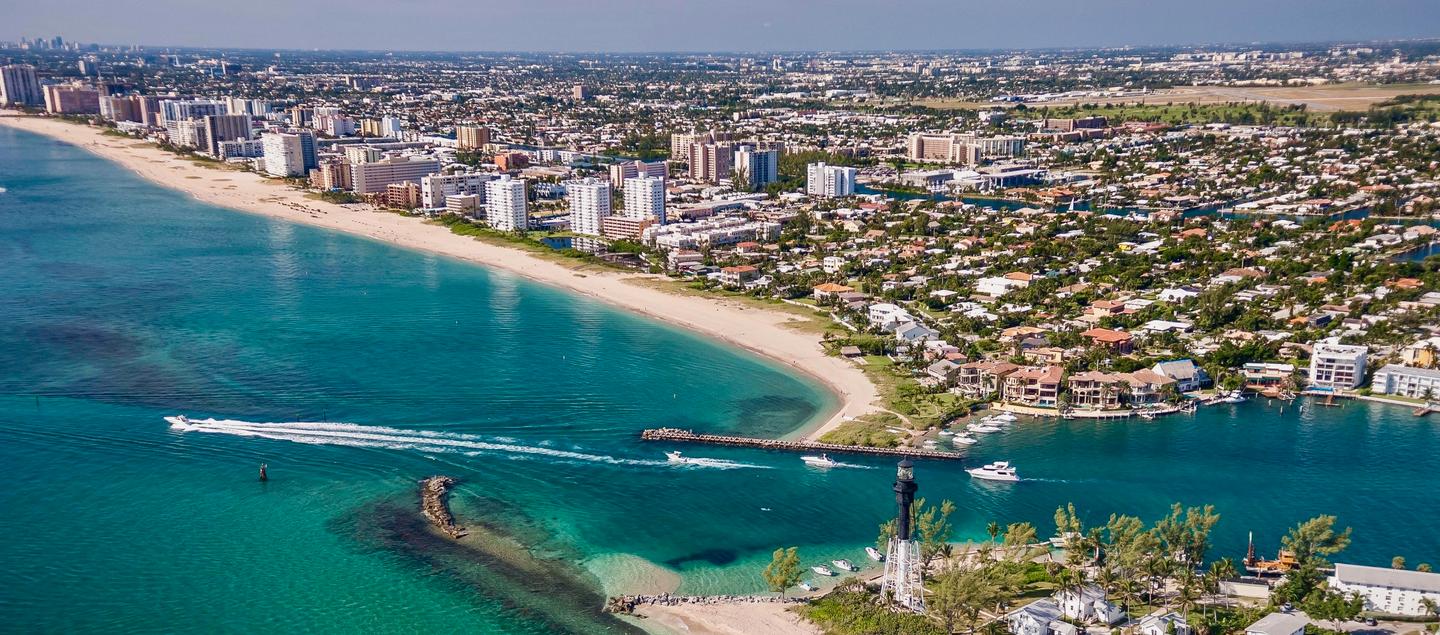 Variety is the spice of life.
Yeah, there's plenty of snorkeling sites all around the globe, but in Florida, there are snorkeling sites that have their own snorkeling sites.
All you have to do to see for yourself is take a trip over to Pompano Beach.
Enjoy the beach, relax a little, and prepare to dive in.
Unlike the last pick, however, it would probably be better to try this site out while making use of a boat.
That's not to say that you can't just jump in and swim out to one of the sites, because you absolutely can.
But using a boat makes it easier to hit all three!
See, once you get about a quarter of a mile away from the shore, you'll be right on top of one of the reefs.
And you could spend a lot of time exploring all of the reefs down there!
You could even grab a buddy, grab some surfboards, and paddle your way to all of the sights.
The boards may cost you to rent, but the awe of exploring these reefs is 100% free.
Snorkeling Spot #3: Hollywood North Beach Park
At number three, we've got Hollywood North Beach Park.
Despite the name, I can't guarantee that you'll run into some of Hollywood's finest…
But what I can guarantee you is that there's some good snorkeling to do here!
Once you get to Hollywood North Beach Park, you'll the standard option of just enjoying the beach itself.
But once you're ready to get down to the nitty-gritty, you'll find that this site is a bit deeper than others.
And with more depth, comes more things to find and see.
With the depths around this site ranging from around 13 feet deep to 20 feet deep, the waters here are teeming with sea life!
You can run into fish of course, but what about the more interesting wildlife?
They've got you covered.
You can run into some tarpon…
You can run into some exotic tropical fish…
You can run into some barracuda…
And, you could even run into sharks!
There's plenty to see down there, so grab your gear and get ready to have a good time!
It's free… for the most part.
The only thing that you'll be paying for is the metered parking nearby, but that little bit of change is going to be worth the memories.
Snorkeling Spot #4: Coral Cove Park
Appreciating the beauty of a natural reef is always an amazing moment, but that doesn't mean that artificial reefs don't have their moments either.
For those who don't know, artificial reefs serve one main purpose above all else.
They are designed to provide new areas and homes for the local marine life, promoting a great abundance of marine life activity.
And that's exatly what you will discover when you decide to go diving off of Coral Cove Park!
Coral Cove Park is known for having a massive artificial reef.
It's about two acres, and due to the design of the limestone artificial reef down there, it succeeds tremendously in attracting all of the marine life to frequent the area.
And while this can be great when you think about all of the different varieties of sea life that you could encnoujnter, it also has something to take note of.
With a lot of fish in the area, that means that you can bet your snorkel and fins that there will be a few sharks and other sizeable predators in attendance.
But since the water is pretty clear (sharks like to bit in murky waters where it's easier to mistake you for a seal or another one of their favorite foods), there really isn't too much to be scared of.
And if that doesn't put you at ease, then you will be happy to know that there is a rescue staff patrolling the waters and keeping an eye out for any sharks and other worrisome predators.
Snorkeling Spot #5: Red Reef- Boca Raton
Who doesn't love options?
When you come to Red Reef, you will come to find that there's a boardwalk with plenty to do when you are not in the water with your snorkeling gear.
But when you do decide to get in the water to go scope out the reefs, you won't have to go far.
The reef in this spot is but a stone's throw away!
Sitting around ten feet away from the shore, Red Reef is the home for another popular artificial reef.
It's not going to be as big Coral Cove, but that doesn't mean that it's not an enjoyable experience in its own right.
Diving down below, you will definitely be catching an eyeful of the ocean life that populates the area.
You'll see the regular animals, the usual fish.
You'll see some brightly colored, tropical fish.
You might run into a sea turtle or two.
You could even get lucky and stumble across a few eels and stingrays!
Just watch where you step to avoid meeting a sting ray's barb!
And also, watch out for the parking, because it's starting off at 16 dollars throughout the week, and 18 on the weekends.
Snorkeling Spot #6: John Pennekamp State Park- Key Largo
Anybody that has been to Key Largo can tell you one thing.
It's amazing!
Known as one of the best spots in the country for snorkeling hands down, there's definitely a reason as to why it can proudly hold that claim.
Unlike the other snorkeling spots, however, it isn't exactly free.
There are three scheduled boat rides out to the reefs, with the times starting at 9 am, then another time at noon, while the last time to catch a ride out is around 3 pm.
The boat rides get priced by the age, with minors falling around $21, while the adults get to catch a ride for around $27 dollars.
If you're somebody who has a boat or you know someone with a boat, you can instead go check out White Banks Reef, which is near the southern side of the park.
Dive in those waters, and you'll be mesmerized by the variety of different sea life that you could encounter!
Snorkeling Spot #7: Commercial Boulevard and A1A, Lauderdale By The Sea
You got to love Florida for all that it offers.
All of these beaches and primetime snorkeling spots, there's just so much stuff to dive into.
And another location that all of us avid snorkelers out there should try is Lauderdale By The Sea!
Loved and revered by many local snorkel enthusiasts, Lauderdale By The sea is another one of those easily accessible snorkeling locations.
Plenty of locals can vouch, having seen people hop straight into the water and enjoy themselves.
In order to experience the snorkeling that you've been looking for, all you have to do is a few straightforward, simple things.
Simply find a way to get to Anglin's Pier, then head out in a northern direction, or the opposite. Either works.
Once you're out there with your snorkel and your dive flag, you're free to jump in and swim towards the location since it is relatively close to shore.
The spots are close enough for you to not really need a boat, but only if you are a pretty strong swimmer.
Beneath the waves, like the other spots previously mentioned, there is a multitude of different sea creatures to see! Nurse sharks have been spotted around as well.
Snorkeling Spot #8: Peanut Island- Rivera Beach
If you've scoured all of the Fort Lauderdale spots and are still craving more snorkeling spots nearby, then I've got news for you.
Peanut Island could be your next stop!
Getting to Peanut Island means taking a trip, then hopping on a boat or a ferry to get to the island.
Yeah, can't just swim your way to this one.
You will be traveling towards Palm Beach, where you'll find the island directly inside of the inlet.
The island has more than just snorkeling to offer as well, with the western side of the island offering boardwalks and docks for you to enjoy, while the eastern side is where you go if you want to enjoy a nice park with plenty of shade.
Not only does the east side have the picnic areas, but it is also home to your scuba sites!
Snorkeling Spot #9: Yankee Clipper Rocks
Rocky areas are definite hubs for a lot of underwater activity.
They provide homes and shelter for much of the wildlife under the waves.
And when you visit Yankee Clipper Rocks, that's exactly what you'll get!
Dive in and swim around 75 feet away from the shore, and you'll come across a beautiful collection of coral and marine life.
Just make sure that you have a dive flag, though, because the lifeguards on duty won't let you travel out otherwise.
Snorkeling Spot #10: Biscayne National Park- Homestead
Ever wanted to ride on a huge boat with your family and friends before you guys hop off to jump in the water to snorkel?
Ever want to see the water beneath your feet while you're in the boat?
Then Biscayne National Park- Homestead's location is exactly where you want to be.
The boat tour takes you around to see the wildlife up close and personal, as well as offering snorkeling directly off of the boat.
Bring your snorkeling gear and leave all your problems, because you're going to be too occupied with having fun and sightseeing to do anything else!